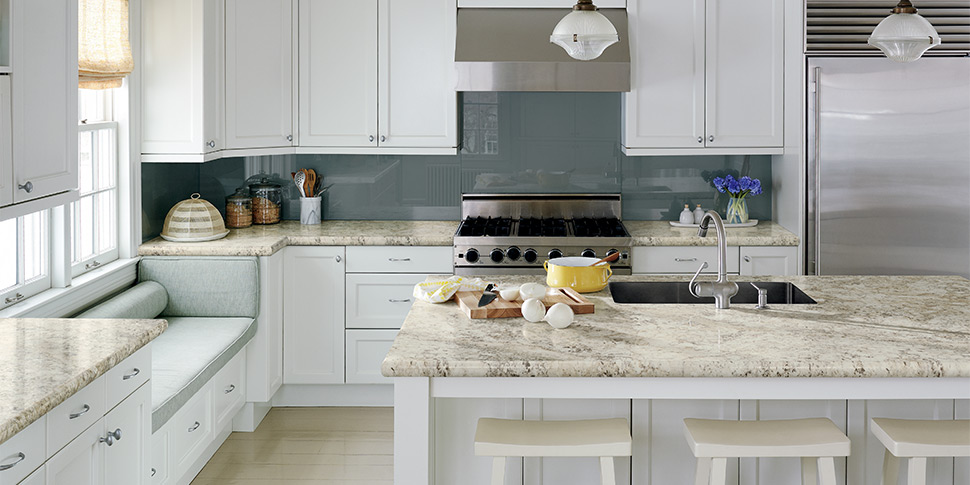 Laminate
Versatile, economical, durable
Laminate countertops have been around for over 60 years and have established an exceptional reputation as a durable and beautiful surface for countless applications.
Laminate comes in a wide variety of colors, patterns, and textured surfaces. Clean up is simple and resistant to stains although using a trivet or cutting board for hot items and cutting is recommended.
Our post formed countertops come in several edge profiles with a seamless coved backsplash or can be custom built and designed with countless choices of different edge details and backsplash materials.
Solid Surface
Durable, seamless, versatile
Beauty and Durability make solid surface a popular countertop choice for kitchens, bathrooms, office, or tabletops. Solid surface is a non-porous material, which inhibits the growth of bacteria and germs.
Solid surface as been around for over 25 years and has patterns that mimic stone, terrazzo, concrete and glass, as well as colorful palettes with particles that add depth and texture. Solid surface can be fabricated with a seamless integral sink or under mount style sink for a smooth wipe down surface. Many options available such as a seamless coved backsplash and a variety of front edge profiles.
Another unique property of solid surface is the ability to easily repaired. Scratches can be buffed out and small burns can be sanded away. The durability and low maintenance of solid surface make it a good choice for countertop surfaces.